Linen curtains
100% washed linen curtains

In addition to dressing up your windows, the curtains will add a final touch to your decoration. Our washed linen curtains are available in multiple colors and transparencies. We also make them in different ways.
Our collection of curtains is ordered from most to least transparent. Write to hola@delenzo.com if you want custom linen curtains or you want us to advise you. We can also provide you with the bar you need. We make all kinds of finishes; perfect wave, bar, loops or ribbon.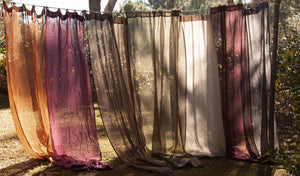 Let customers speak for us
Cortinas y estores, de lino.