Linen tablecloths prices and models
Our linen tablecloths are suitable for large and small tables, if you cannot find the exact size for your table, you just have to contact us so that we can make your linen tablecloth to measure and with a quote for a personalized tablecloth and napkins. We have tablecloths in different colors and styles so you can choose the one that best suits your tastes and needs. All can be with different finishes.
Being a fabric that you are going to use for your meals almost daily, you should know that you can wash them at 40ºC, and occasionally at 60ºC without any problem, and they are also all suitable for the dryer. And the best; they do not need ironing,
To contact us write to hola@delenzo.com, call us ✆ or send a WhatsApp to +34 676 962 746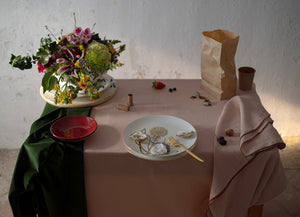 Let customers speak for us
Feliz
Encantada con este producto
Agradable aroma
Aroma fresco e inspirador. Nos recuerda al olor de los paseos por la Sierra... Ideal: rociar el perfume por las almohadas una media hora antes de ir a dormir.
Excelente calidad
Nos encanta que se trate de un producto ecológico y producido de manera sostenible en España. Como características esenciales destacamos su suavidad y su ligereza.
Beautiful !!!
Braviiiiii por este maravilloso mantel de lino. Calidad y acabado excelente. En mi mesa queda maravilloso. Estoy encantada! Gracias!
Ropa de cama
Ropa de cama súper deliciosa, prefiero el lino, no solo eso, es un producto natural de alta frecuencia, por lo que duermes realmente fantástico, tengo muchas ganas de acostarme todas las noches.
Fundas cojín Jaipur
Elegí las verdes con flecos, el color es precioso.
Perfecto
Un plaid muy bonito, exactamente lo que buscaba. El asesoramiento de Elena fue muy profesional y amable. Gracias!
Preciosa, voy a comprar otra :-)
SIN SORPRESAS
Como todo lo que os he pedido me ha encantado . Ya tengo toda mi cama vestida con vuestro tejido. Es acogedor, elegante , moderno …no me canso de verlo y en mi es difícil no hacerlo. Está precioso . No se a quien le gusta más si a mi o a Duki. Está encantado de echarse su siestecita encima del plaid .
Gracias
Todo perfecto, como siempre👌
Muy satisfecho con la compra. Tacto suave. Lo utilizo sobre sofá gris para dar algo de contraste con otros cojines de tono liso. El relleno fenomenal. Envio rápido.
Buenas sábanas
Las hemos estrenado y dan sensación de calidad. Son cómodas y no les veo nada negativo. Sin embargo el color que vi en la web de este producto era un poco engañoso, se llaman Juego completo lino bicolor ROSA&NATURAL, pero en la pantalla daban la impresión de ser rosa y verdoso. El color real es más bien rosa y blanco.
El mejor juego de sábanas que tengo
Sin duda es el mejor juego de sábanas que poseo en la actualidad, tanto el acabado como la sensación al acostarme en la cama son excelentes. No se por que no había nunca comprado un juego de sábanas de lino anteriormente, pero seguro que no será el último.
Además, la atención personalizada es inmejorable, aportando ideas y soluciones para mis necesidades, realmente es como estar comprando en persona, recomiendo esta tienda ampliamente.
Puedo decir que mi habitación parece otra . Queda sencillamente precioso. Cuando termine con ella os mandaré fotos . Llevaba dos años buscando algo que solo con verlo dijese que es único y con vosotros lo encontré. Estoy encantada
Ha complido mis espectativas.Tenía ganas usar el lino en la casa.Momento de cambio.Seguiré comprando Gracias
Manteles de 100% lino lavado